37.000 m2 for health service
185 individual rooms (22 suites)
Intensive Care Unit with 14 boxes.
Neonatal and pediatric Intensive Care Unit (3 boxes with bed for children and crib area).
Surgical system:

15 general operating rooms.
2 delivery rooms and 4 dilatation rooms.
Recovering room.

Emergency: 10 individual examination rooms.

Separated area of pediatric emergency.

Outpatients clinic: more than 100 consultations divided in 10 floors.
Imaging diagnosis Unit:

2 MRI (3 and 1,5 tesla).
1 CT Scann.
1 Dental CT Scann.
6 general ultrasound and 8 for specialties.
1 vascular interventionism room, hemodinamics, electrophysiology, neuro-radiology.
Conventional X-Ray.
4D Mammogram.
Bone densitometry.

Oncological radiotherapy unit
Laboratory service: clinical test, hematology and blook banck, microbiology and pathological anatomy.
Rehabilitation and physiotherapy Unit.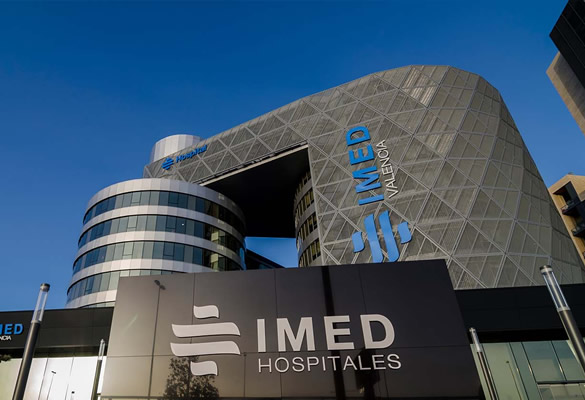 Floor distribution
1 Floor. Odontology service with two consultations and 7 treatment offices.
2 Floor. 9 consultations and x-ray room.
3 Floor. 9 consultations and monitor room,
4 Floor. 10 consultations.
5 Floor. 8 consultations and ophtalmology test room.
6 Floor. 10 consultations. 
7 Floor. 10 consultations.
8 Floor. Aesthetic medicine and plastic surgery with 6 consultations and 6 treatment rooms.
9 Floor. 12 consultations and reproductive medicine unit.
10 Floor. 9 consultations. Cardiology area: 2 ultrasound rooms, 1 exercise stress room and one electro room. An observation room for injected quimotherapy.